Guardian Angel is an Expert Advisor system that provides traders with automatic professional guidance in real time.
The system's messages are unique for each trader. It analyses your trades in real time to find patterns in your trading and how they relate to various market conditions.
Important things you need to be familiar with while using the system:
Main Console:
This is the main display of messages that will appear every time you open or close positions. Keep this window open while you trade.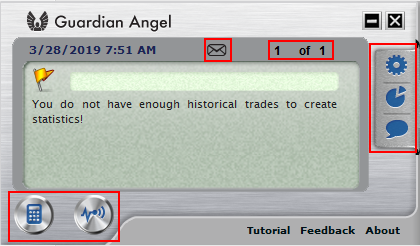 Each message will be identified with a different color to state its level of severity :
Green - Positive indication
Yellow - Medium level of importance
Red - High importance or danger
Navigation:
Guardian Angel allows you to see the last 10 messages that were sent through the system based on your trades. Click on the arrows to read old and new messages. If you wish to read older messages, go to the Message Log option in the main console.
Features:
Clicking on the notification will open the main window which contains the following options:
Market sensor: This window provides up-to-date volatility measurements of the markets you are trading, in 3 different time frames: last hour, last day and last 2 weeks. It shows the current volatility level (very low, low, moderate, high and extremely high) as well as a Stop Loss "safe zone" in pips that is based on the current volatility level.



Statistics

: weekly statistics that will appear in the main Guardian Angel window

Settings

: In the Settings area you can adjust the Guardian Angel messages according to your personal preferences:

Choose the topics of messages you are interested in or go back to "Default" by clicking on "Restore defaults".

Feedback

: Click this option to provide feedback about your experience with the Guardian Angel. It will help us make improvements in the future.

Chat

: Click this option to chat with agents while trading

Calculator

: You can calculate stop loss based on account risk or market volatility for each instrument you are trading.


Desktop Notifications:

When Guardian Angel's main console is closed, messages will appear so you can see the beginning of each message. Click it to open the main console and view the full message.