A template allows you to save chart settings, build custom chart types with colours and graph properties and save your chart drawings and indicators. Once a template is saved, you can apply it to just about any chart or instrument.
You can create your own template or download existing ones.
To apply an existing template, download the custom template and follow the steps below:
Download the custom template, then click and drag it into the template folder of your AvaMetaTrader platform.
Open your AvaMetaTrader and select:'File'-> 'Open Data Folder' -> 'Templates'

Now drag the template into this location;
Your AvaMetaTrader may need to be restarted at this point.
After restarting your AvaMetaTrader, right click on a chart;
Select 'Templates' and then click on the desired template.

If you wish to design your own templates, you can do easily so by following these steps:
Open any chart and perform the required changes such as chart type, colours and any indicator you may need

.

Please note - Drawings may not appear correctly if you apply the template to a different instrument chart

.
Right click on the chart, then 'Template', After that, select the 'Save Template' option.

This will open a pop-up window asking you to name the template

.

Once you name and save the template, it is ready to use, and you can apply it to any chart

.
Templates can be viewed, saved, loaded and removed selecting Charts -> Template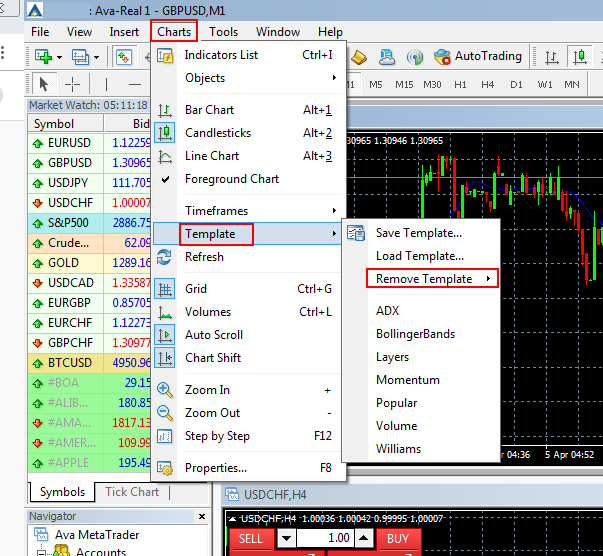 through the Templates button on the toolbar:


Or simply right clicking anywhere on a chart: